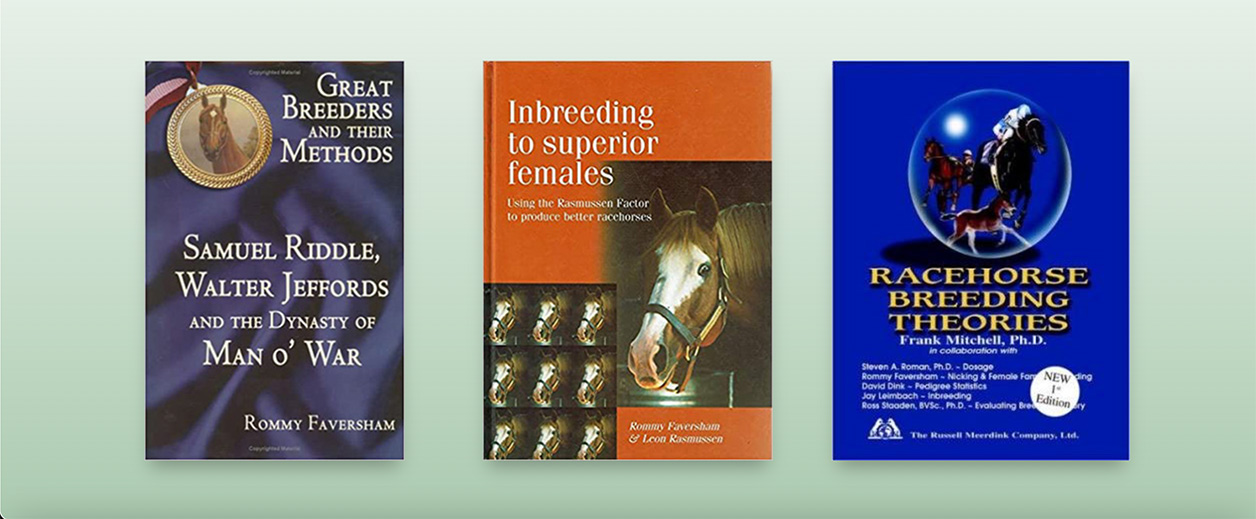 Great Breeders and Their Methods: Samuel Riddle, Walter Jeffords and the Dynasty of Man O' War
Author: Rommy Faversham
Can a Thoroughbred sire with 64 stakes winners from 381 foals – nearly 17% – be considered a failure? Or is such a claim no more than the rumblings of a jealous racing society?
So it is with the great Man o' War. Despite shaping Thoroughbred pedigrees for decades to come, Samuel Riddle and his partner, Walter Jeffords, have long been accused of ruining the breeding efforts of the 20th Century's greatest runner.
Now, author and pedigree analyst Rommy Faversham dispels the myths surrounding Riddle, Jeffords, and this legendary horse. He shows the careful design of Man o' War's racing and breeding career and details the pedigrees of the horse's ancestors, mates and progeny. Throughout this analysis, Faversham weaves the tale of an American landscape forever changed by "Big Red" and his thousands of fans.
It's a story that proves method – and not just luck – is what makes a great Thoroughbred breeder.
Inbreeding to Superior Females Using the Rasmussen Factor to Produce Better Racehorses
Authors: Rommy Faversham and Leon Rasmussen
In 1999, my first book, which I co-authored with mentor, Leon Rasmussen was published by the Austrailan Bloodhorse Review.
It's 514 pages and is richly illustrated with color photographs, charts and tables. Additionally, the book contains hundreds of five generation pedigrees of history's great Thoroughbreds demonstrating the Rasmussen Factor. These pedigrees have all been uniquely highlighted in color to accentuate the distinct female family inbreeding patterns.
Racehorse Breeding Theories
Authors: Mitchell, Roman,
Faversham et al
Breeding the ultimate racehorse has challenged the minds of breeders and theorists for over 200 years. Now, for the first time, students of racehorse breeding have a chance to examine theories on genetics, biomechanics, nicking, dosage, inbreeding, outcrossing, statistics, female families, heart score, the work of Federico Tesio, Bruce Lowe, and many others.
This volume, co-written by a number of noted pedigree analysts, incorporates a wide and varied assessment of the major breeding systems and theories. I am a proud contributor of two of its chapters:
NICKING – a comprehensive look at patterns of affinity within thoroughbreds; the misconceptions of nicking analysis; types of nicking patterns; history's five most famous nicks; the most prominent contemporary affinities and more.
FEMALE FAMILY INBREEDING – includes updated material from my previous title, INBREEDING TO SUPERIOR FEMALES; forms of female family inbreeding (FFI); top patterns in the world today; how FFI can be applied and evaluated; future patterns to look forward to.